Carol Kalvonjian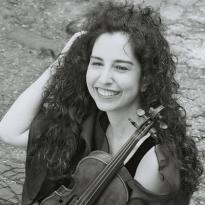 Price Quote
Send Inquiry
Summary
TypeViolin
Music StyleClassical, Jazz
InstrumentViolin
Event TypesCeremony Music, Cocktail Music, Dinner Music
Bio
One of Chicago's most versatile and highly respected violinists, Artistrings leader and violinist Carol Kalvonjian has been performing professionally for over fifteen years. This Wisconsin native graduated with distinction from the University of Wisconsin-Madison with a Bachelor of Arts degree in violin performance and as a member of the prestigious Phi Beta Kappa honor society. An aspiring arts administrator, Carol spent some time working at the National Endowment for the Arts where her work was praised as "flawless" by the program administrators. She was one of six students in 1990 accepted into the renowned Bolz Center for Arts Administration, where she spent two years studying violin and business, earning a Master of Arts degree in Business, with a major in Arts Administration. During this time, she also worked as the coordinator of the Sunday Afternoon Live concert series, a weekly concert series broadcast live on Wisconsin Public Radio from the Elvejhem Museum of Art. Carol then continued on to Northern Illinois University, where she earned a second Master's degree, this time in Violin Performance. In 1997, she completed her formal education with a Performer's Certificate in Violin from NIU where she enjoyed the privilege of studying with the members of the Vermeer Quartet.
Ms. Kalvonjian has performed with many orchestras, including the Metropolis Symphony, Lake Forest Symphony, Chicago Sinfonietta, Chicago Jazz Philharmonic, Chicagoland Pops Orchestra, Ballet Legere, and American Ballet Theatre. She is the newest member of Jim Gailloreto's Jazz String Quintet, a collaboration of Chicago-based HAWK string quartet and soprano saxophone. In addition to live radio broadcasts on WFMT (Chicago) and CBC (Canada), she performs with the Chicago Philharmonic and the Ravinia Festival Orchestra. Other summer festival appearances include the Spoleto Festival USA (Charleston, SC), Scotia Festival of Music (Halifax, Nova Scotia), Colorado Music Festival (Boulder, CO), and Woodstock Mozart Festival (Woodstock, IL).
Carol has appeared with many pop, jazz, and touring acts such as Andrea Bocelli, Bernadette Peters, Sarah Brightman, The Three Tenors, The Three Irish Tenors, The Three Polish Tenors, The Pointer Sisters, Leslie Uggams, Michael Buble, Dennis DeYoung, Renee Olstead, Smokey Robinson, Marco Antonio Solis, Michael Feinstein, Kurt Elling, Gregory Harrison, Nia Peeples, Anne Murray, Natalie Cole, Al Jarreau, The Moody Blues, ELO, Yes, and Bread. She has enjoyed performing with the Joffrey Ballet of Chicago as well as collaborating in recital performances with recording artist Fareed Haque. Ms. Kalvonjian performs in the 2007 Infiniti in Black ad campaign featuring Chicago jazz trumpeter Orbert Davis.
Hundreds of Artistrings clients have been impressed with the impeccable music and the attentive service provided by an accomplished professional musician with such strong administrative skills and business acumen.
Video